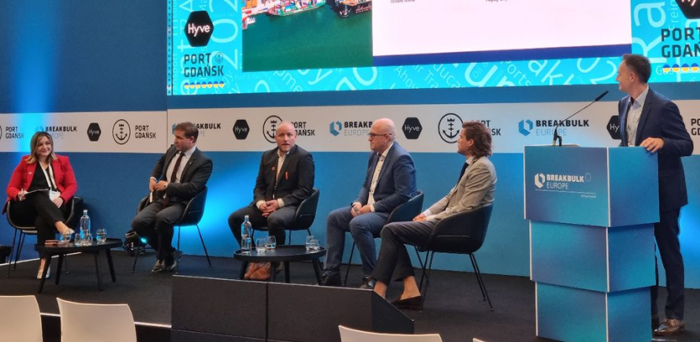 20 May, 2022
ROTTERDAM—There is no clearly optimal marine fuel to power the current and future generation of cargo vessels, speakers said Thursday here at Breakbulk Europe 2022.
"We need options. We can't take any off the table," said Roger Strevens, vice president of sustainability at Wallenius Wilhelmsen. This Swedish/Norwegian-based carrier operates a large fleet of Roll on/Roll off vessels that carry significant breakbulk cargo.
In fact, ship owners should consider next-generation, scaled-down nuclear-powered engines, and wind asset technology, Strevens said.
"There is no silver bullet as a solution," added Bernard van Haeringen, commercial manager of marine at GoodFuels. It is an Amsterdam-based developer of marine biofuel.
More specifically, fuel selection ideally should satisfy five critical criteria: commercial; financial; operational; regulatory and technical, Strevens said.
Available biofuel now does not seem to meet some of those criteria, according to Strevens. For example, generally using high-cost biofuel, now about twice as expensive as conventional bunker fuel, would make most current voyage cost calculations uneconomic, he said.
Bunker fuel expense is the largest single voyage cost for most carriers.
In addition, biofuel may not be readily available at all ports, primarily impacting ships that trade worldwide, Strevens added.
In fact, fuel selection should help optimize a fleet's operations, in terms of minimizing required fuel storage capacity, relative to vessel size, said Leif Strommen, a partner and head of business development at Peak Group AS. Peak is a Bergen, Norway-based carrier whose vessels provide short sea shipping service.
"It's all about the money," he said.
Moreover, speakers agreed that carriers should continue evaluating next-generation bunker fuel options given that the European Union is poised to require member states' flagged vessels participate in a Carbon Trading Scheme. The goal: to reduce those ships' carbon footprint.
"The European Union has set its sights on ships," Strevens said.
The EU is considering regulating EU ships' carbon emissions because the International Maritime Organization, the body that sets worldwide fuel emission rules for most vessels, is moving slowly to do so, speakers said.
Source: GCaptain
Categorized in:New
This post was written byTL Pacífico